Some of the most time- and cost-consuming components of clinical research center on gathering, analyzing, and reporting data. To improve efficiency, many clinical trial Sponsors have shifted to electronic clinical outcome assessments (eCOA), including electronic patient-reported outcome (ePRO) tools.
In most cases, patients enter data using apps installed on provisioned devices. At a time when 85% of Americans own a smartphone, why not use the device they already know and love?
Smartphones are central to patients' lives. Roll these devices into your trial for a better, patient-centric solution. BYOD, or Bring Your Own Device, is a viable option for many clinical trials and a must for decentralized clinical trials. While decentralized trial models and ePRO are both accepted in the industry, some Sponsors have hesitated on BYOD due to questions over data quality, integrity, variability, regulatory acceptance, and logistical issues.
The upheaval in clinical research caused by COVID-19 has prompted Sponsors and CROs to give BYOD a longer look. Patients are less willing to travel to physical sites and more comfortable using their mobile devices in the context of healthcare. To encourage enrollment, Sponsors must meet patients where they are: at home, on the go, or at the clinic.
With the FDA encouraging adoption of patient-centric approaches, clinical trial models that allow patients to report outcomes from home are the way forward. BYOD is a key component of this approach.
BYOD Benefits for Patients, Sponsors, and CROs
An increasing number of studies are deploying BYOD models with success, proving regulatory hurdles can be cleared. And the benefits to both patients and Sponsors make BYOD a clear choice for many clinical trials.
The biggest benefit? Patients prefer it. The more patient-centric your approach and the more seamlessly your clinical trial fits into your patient's life, the more likely your patient is to stay engaged. They don't have to learn how to use a new device, nor do they have to keep up with a second phone. Think about it: Most smartphone users can't part with their devices for five minutes. But if they left a provisioned device at the office, it would prompt much less urgency. "I'll enter my symptom info later," they'd think. Not good for data accuracy.
A 2018 study explored patients' preferences for paper-based and digital PROs. Patients completed a PRO using paper, a provisioned device, and an app installed on their mobile device. Patients later filled out a questionnaire about their attitudes toward each method.
Of the 155 participants, 94% said they would "definitely" or "probably" download an app onto their mobile device for a future clinical trial. A total of 45% thought BYOD would be more convenient. Only 15% preferred a provisioned device.
94% said they would "definitely" or "probably" download an app onto their mobile device for a future clinical trial.
BYOD also paves the way for compliance. In an early Clinical ink case study, patients leveraged the BYOD implementation twice as often and for twice as long (see below). This suggests patients were using the app as intended, which leads to better data and a smoother clinical trial.
Total App Sessions During the Study by Study Participant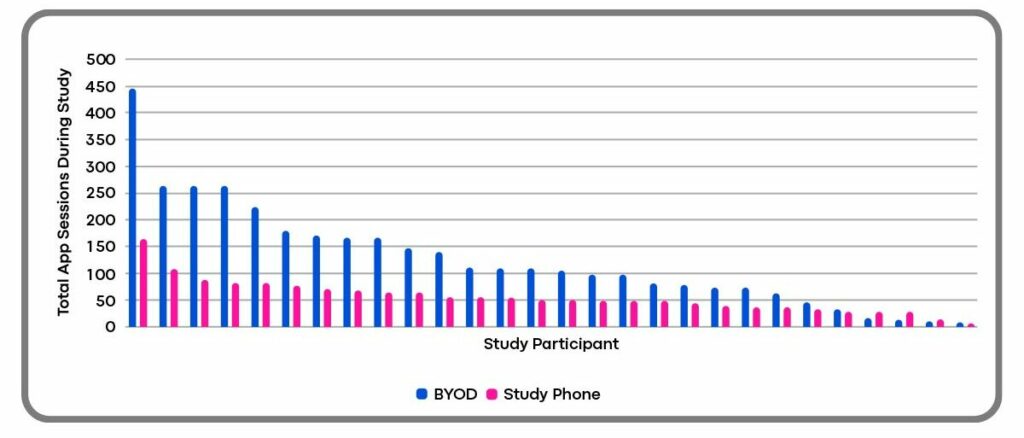 Duration of Total App Use by Study Participant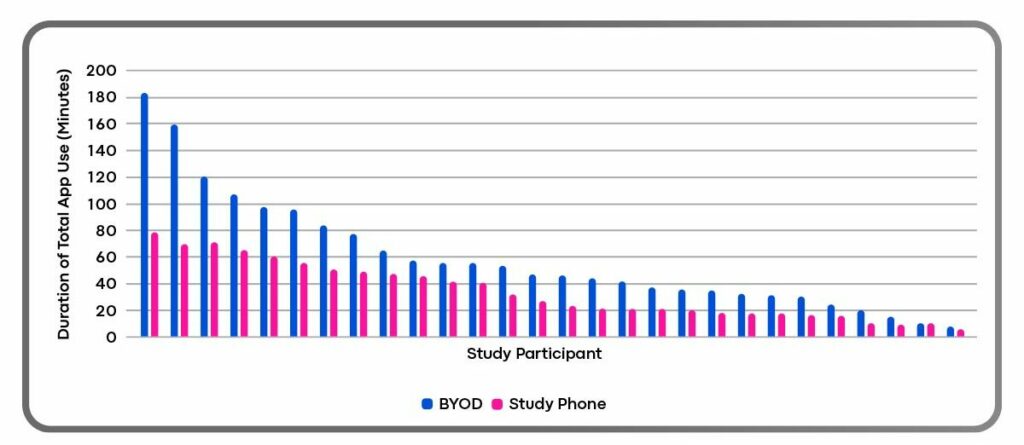 Clinical trial Sponsors and CROs face enormous pressure to control costs and shorten timelines. BYOD helps achieve both. In addition to improving efficiency, BYOD significantly lessens — and perhaps eliminates — costs associated with data plans, shipping, lost or unreturned devices, and the overall logistics of inventory management. For a large trial, these savings could mean hundreds of thousands of dollars.
Dispelling the Myths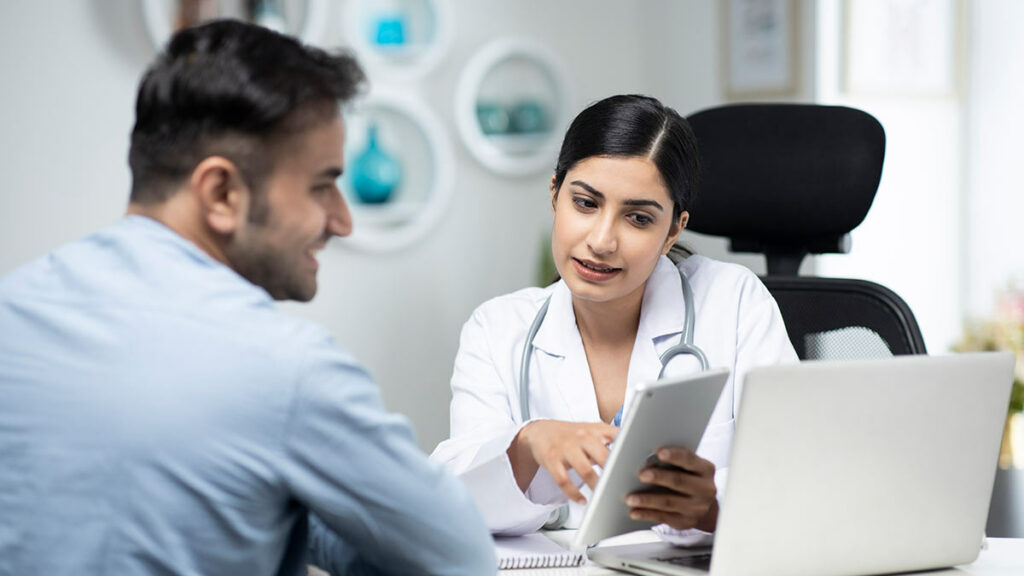 Myth #1: FDA Won't Accept BYOD Data
While the FDA has not given explicit guidance around BYOD data, multiple studies have made regulatory submissions using BYOD-captured primary endpoint data. Concerning PRO assessments, in its COVID-19 guidance document, the FDA states:
"To mitigate the potential for missing data, Sponsors should consider remote electronic capture of these assessments through technologies that can remind trial participants to complete the questionnaires and/or verbal administration at the time instructed (assuming appropriate steps are taken to minimize bias from verbal administration)."
This statement indicates an acceptance of mobile devices generally. However, Sponsors must accommodate patients who don't have a mobile device or who don't want to use their device.
We've found the FDA is willing to have conversations about BYOD on a study-by-study level. And given the agency's push to move away from paper-based trials, it's likely the FDA would look favorably on a trial deploying BYOD for ePRO.
Engage with the FDA early in your protocol to get feedback regarding BYOD or a hybrid strategy. Depending on protocol requirements and indications, an ePRO vendor should be able to offer hardware and implementation recommendations for your study.
Myth #2: BYOD Raises Copyright Issues
PRO questionnaire copyright holders may have reservations about the use of their work in an instrument (like a mobile app) that they haven't reviewed. Any approach for BYOD should be reviewed and approved by the copyright holders before ePRO development begins. If that's not an option, BYOD may not be the best choice. If the copyright holder has expressed comfort with BYOD or if the questionnaire was created by the Sponsor or CRO, you've got the green light for BYOD.
As you plan ePRO development, raise any copyright concerns with your vendor. They may have relationships that can help facilitate the process.
Myth #3: BYOD Leads to Inequivalent Data
Multiple studies and meta-analyses show high levels of agreement between paper and electronic formats. If you follow general principles of ePRO design good practices — such as those reported by Critical Path Institute's ePRO Consortium — measurement capabilities between paper-based data collection and mobile devices should be equivalent.
Clinical ink's ePRO technology provides consistency whether patients use their smartphones, provisioned devices, or a combination. An internal study found no statistically significant difference in implementations between provisioned hardware and patient smartphones.
The BYOD Bottom Line
BYOD is an important component of patient-centricity in clinical trials. The approach doesn't suit every trial — some may require a hybrid approach while others may require provisioned devices exclusively. To determine whether BYOD is right for your or your client's trial, consult with a BYOD-experienced vendor to evaluate risks and opportunities and determine the best path forward.
Tip: ask about regulatory and copyright requirements.
Bring Clinical ink's expertise into your BYOD study
At Clinical ink, our experts can help you determine how BYOD fits into your decentralized or traditional trial. Whether you choose provisioned devices, BYOD, or both, our patient engagement, design, implementation, translation, and licensing experts are there to help you every step of the way.
Empowered patients lead to better outcomes. Whether you're a biotech startup, a global CRO, or an established pharmaceutical company, consider BYOD as a vehicle to improve data quality, save time and money, and to win high marks from your study participants. Contact us to find out more about how we can help you.