Understanding what's "behind the eSource curtain" with an Advanced Technology Team
We all benefit from many technological advances—from GPS to AI/ML to ChatGPT—without questioning exactly how they work. There's no real need to understand what goes on "behind the curtain" or "under the hood." The focus is on what is created over how output and results are created.
When it comes to data capture from mobile devices in clinical trials using eSource, clinical ops and study managers must have a deep understanding and control over the "how": how study data is generated; how work being done behind the scenes is ensuring the right data is captured, ready, and available for analysis.
Why? Because with any mistake made—should the wrong signals be measured or should the data capture methodology be too burdensome for patients—the data may be compromised and have limited value at the end of the trial. It is essential to not only engage with the right data team, but more importantly to understand how they leverage technology to capture and analyze data accurately.
For every trial that uses complex eSource data, in particular data coming from mobile devices and technology, including sensors and wearables, Clinical ink assigns an Advanced Technology Team to ensure that the most meaningful measures are taken, the data properly prepared for analysis, and the needed infrastructure provided to support that analysis.
Data engineers and data scientists provide the expertise in programming, data management, and statistical modeling, and also most critically in user experience (UX) design. Their knowledge of the human factors is critical to the quality and integrity of data collected electronically.
Here are ways to ensure success collecting complex eSource data in clinical trials:
Involve clinical specialists and human science experts to consult on protocol design early. Ensure that the data collected will support the research goals and that the study design will not inhibit patients' participation, adherence, or retention in the study.

Rely on UX experts as the interface between humans and machines to support better experience and good science, and ultimately deliver valid results. Leverage their knowledge of how humans behave and how the data collection must work to get consistent amounts of clean data.

Create a Data Dictionary with data scientists based on the protocol to define what data will be collected considering all possible variables, ranges for each value, and data schema for the database. Coordinating input from and agreement between the Sponsor, the Contract Research Organization (CRO), and the Clinical ink application development, platform, and data teams is critical.

The Data Dictionary determines what assessments will be created in the electronic device, how the data lake will be structured to support analyses, and what visualizations will be required to interpret the data. The Data Dictionary clarifies what exactly will be delivered.

Develop the infrastructure with engineers to pipe the data into a data lake, which will house the raw data in a way that will facilitate easy access and analysis by data scientists and data analysts. They develop, refine, and provide the tools to perform machine learning on the data and populate dashboards in real time.

Build and test dashboards with data scientists and data analysts that will display data for real-time monitoring of protocol adherence and data quality.

Feature engineering pipelines and train advanced machine-learning models with data scientists and statisticians to support real-time predictive analytics. Such analytics can be used to predict a patient's adherence to the study protocol or disease status.
The Clinical ink Advanced Technology Team is a learning organization. This means that they adopt the learnings from one project to inform the next study design. They use the feedback from post-study analyses to continuously hone their skills.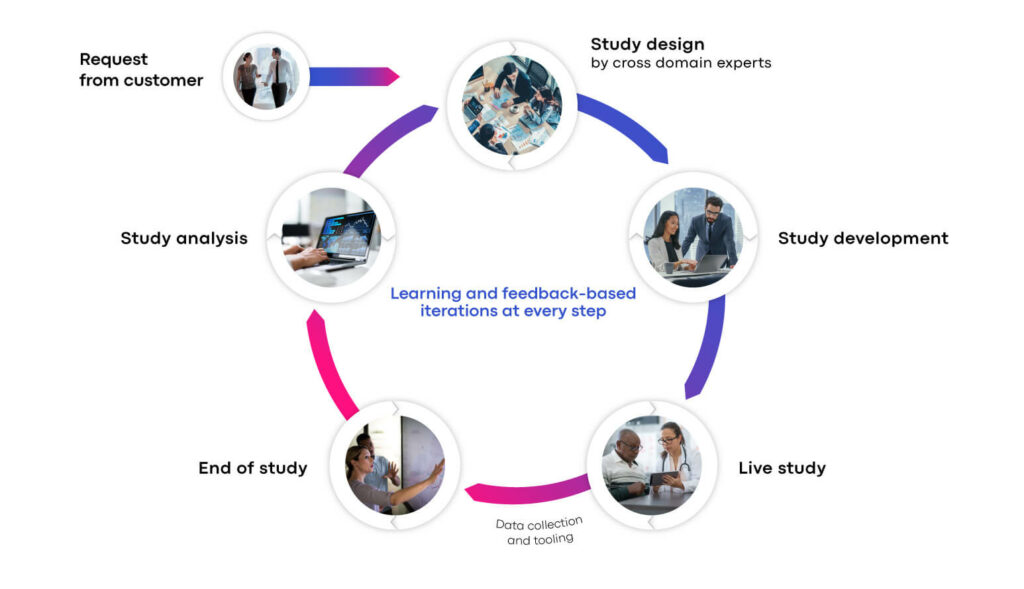 The Clinical ink Advanced Technology Team helps you understand and prepare how to process complex eSource data, so you can be an effective decision maker in ensuring that the technologies, methodologies, and deliverables around eSource data will meet your study goals.
Read more about the Clinical ink Advanced Technology Team and its goals in this DPHARM interview with Joan Severson, Chief Innovation Officer and team lead.